We support the NEW automotive industry.
As pioneers in testing high-voltage battery systems, we have been actively accelerating the transition to sustainable mobility with Voltavision for more than 10 years. We create and run intelligent test laboratories, develop high-quality test bench equipment and advise our partners on setting up and operating their own test capacities. We pave the way towards the sustainable supply of energy and green mobility with expertise, enthusiasm and creative vision.
Enabling visions. Bringing about change.
We want to see technology, people and nature in harmony. Creating a responsible and liveable world is what motivates us daily. To achieve this, we work closely with our customers and partners and contribute our knowledge to development processes in a variety of ways. In doing so, we empower those who can bring about decisive change.
Internally, too, we are always looking for new ways to optimise our cooperation – for the benefit of our customers. As an agile company, we promote self-organisation and personal responsibility at all levels, dare to use short decision-making paths, and achieve better solutions more quickly.
Our inspiration: developing the future every day.

We also live out our passion for innovation in our shared working. As a holacracy company, we bring out the best in our talented individuals. For effective working that doesn't feel like work.
Our mission has a history.
We were already developing and testing batteries for electric vehicles while we were at university. After a short detour into the automotive industry, we founded Voltavision in 2011. Since then, Voltavision has been constantly evolving. Our journey has just begun...
2011

The foundation stone: the solar car project at Bochum University of Applied Sciences (BO) inspires Julian and Nils Stentenbach to support the switch to renewable energies by establishing an energy storage test lab. The vision is born.

2013

After spending a year in a container office, the now five-member Voltavision team moves into its first real business and laboratory premises in Bochum – home base and control centre to this day.

2017

The doors to two new satellite locations in Nürtingen and Unterschleißheim are opened in direct proximity to important customers from the automotive industry – the starting signal for strong growth that continues to this day.

2019

The capacities at the now three locations in Bochum are being successively expanded to keep pace with the growing demand. The team is also growing – to over 100 employees currently.

2022

Shortly after its tenth anniversary, Voltavision adopts a new, more modern and professional image that does justice to the company's growth.
Achieve your vision of sustainable mobility with Voltavision.
We help you to develop and secure sustainable vehicle technologies and products that accelerate the shift towards renewable energies.
Test your batteries.

In our state-of-the-art test labs, we test the energy storage systems of the future. Discover our vast test bench capacities and our comprehensive portfolio of normative and individual tests.

Streamline your testing laboratory.

Born from our experience, produced for your testing laboratory: simplify your daily testing routines with our individually developed, practice-proven products specially designed for high-voltage test equipment.

Benefit from our experience.

Our knowledge is your advantage: Provide your team with the qualifications they need to handle test equipment and HV systems. We advise you on all aspects relating to your testing laboratory and take over the maintenance and calibration of your instruments.
Want to help shape the future? Join our team!
Voltavision is growing all the time. If you are eager to contribute to technological change and want to experience a new way of working, you have come to the right place. Everything else you need to know you can find right here.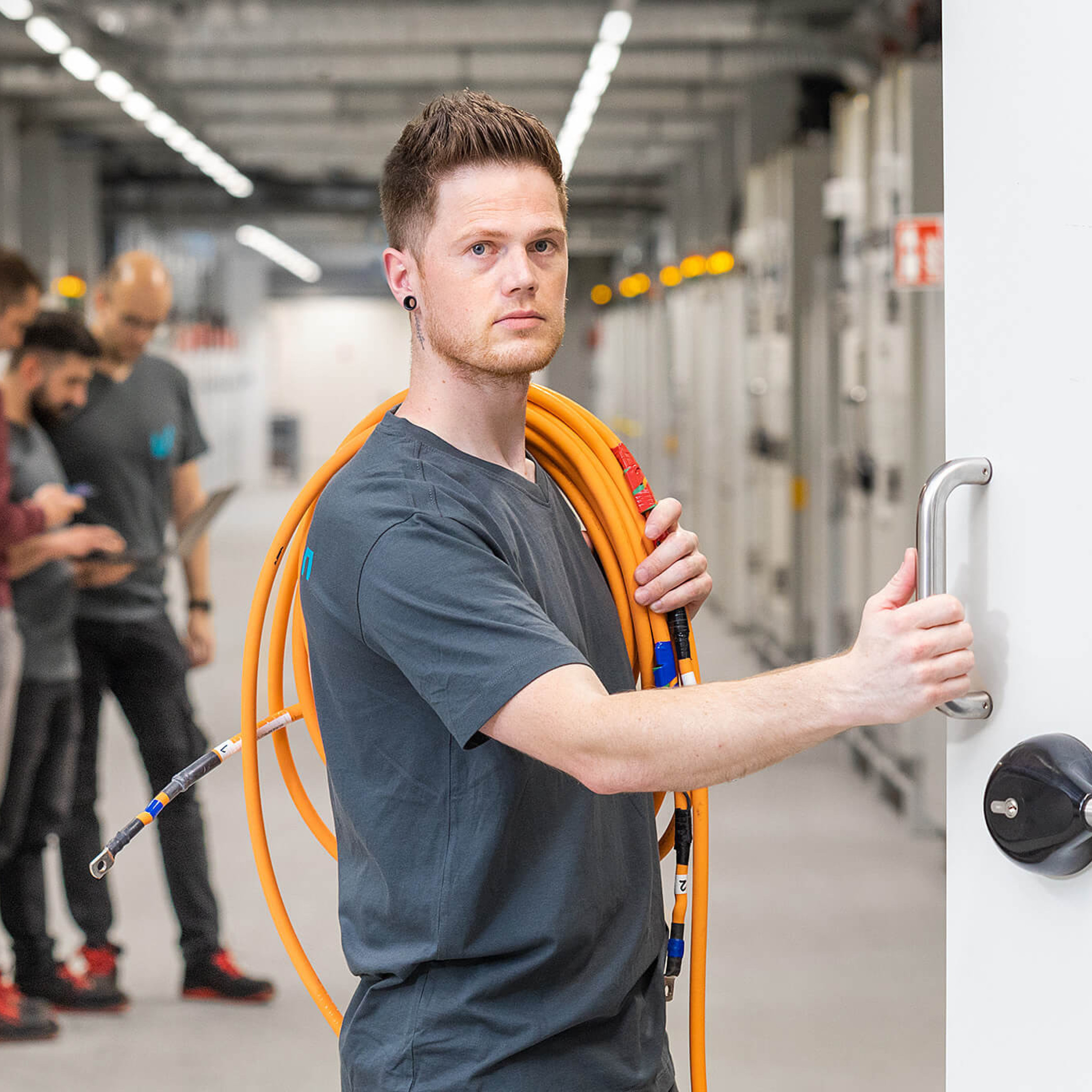 The vision to empower
Voltavision is a testing laboratory accredited according to DIN EN ISO/IEC 17025:2018. Our quality management system is certified according to DIN EN ISO 9001:2015. Information security, prototype and data protection are certified according to TISAX Level 3.